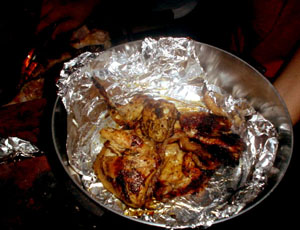 the barbeque story
Khamis lepas-14 April
Bebudak ghazal wat bbq..kirenye cam farewell nye bbq la neh.
mule2 plan nakw at kat umah Neesa tapi tak jadi sbb ramai tade transport nak gi.
so sume
pakat2 wat kat cyberpark je..so pas tgk presentation bebudak
pukul 6 kitorang pegi cyberpark.
seumo idup aku 4 tahun kt mmu nila perst time aku gi cyberpark.
padehal bukan jauh sgt pon.
The barbeque went quite well.walaupon perst2 ade difficulty
cam tade lampu kt kawasan tu.but pastu budak2 gi beli lilin
sampai 4 kotak nak terangkan kws tuh.pastu api susah
nak idup pasla baru pas ujan.
tp atas kepakaran PJ sume nye menjadi kenyataan ..ewahhh.
Aku takla membakar sgt pon..sebab takot jadi ape2 kat ayam tu..
tak pasal2 budak tu gi tapau KFC lak kang
kempunan makan ayam.cikgu lak tak dtg..sedih gak la kan.
aku try call dr pagi tak dpt2.
maybe someday we'll meet again.
lame gakla nak siap membakar ayam ni sampai agak kebulur aku.
seb baik ptg tu
aku dah tala roti canai.
Balan lak sediakan mashed potato same coselow (btol ke aku eja ni)..
original recipe lah ni sampai tanak kasik tau pon resipi die ape..
taula sedap.
Cess..takpe balan nanti aku korek same ayeen..hehehe
kendian just lepak2 aje la makan ayam and kambing tp
byk tak abes bakar sebab kol 11 pakcik security tu dah bising2 suruh packing.
Aktiviti malam tu adelah makan..pertunjukan magik oleh balan.
game black magic dan game kira brape yg menyakitkan hati oleh
anuar dan juge sesi karaoke lagu sentuhan listrikmu oleh balan,semut dan anuar.
enway..it was great to haf bbq like diz sumtimes.
See ya around guys ...lenkali kite wat bbq kat tepi laut plak ;)
sape nak check gamba will upload soon